Happy Express Hotel
A New & Modern Hotel in Oaxaca City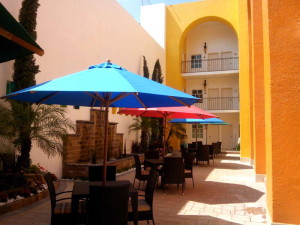 Discover a one of a kind Oaxaca hotel. Happy Express Hotel is a brand-new four star hotel built in 2014 with a minimalist design trend, a modern architectural style and contemporary decoration. In here, our guests enjoy all the necessary services, a privileged location and a kind and attentive staff that are rightly qualified to receive national and international visitors.
Along with its modern design, Happy Express is well-known among Oaxaca hotels for being a disability-friendly hotel. We have ramps from the street to our Handicapped room, which is fully accessible for guests with disabilities.
Rooms
Happy Express Hotel features 24 single, 10 double rooms, 2 junior suites and 1 handicapped accessible room. In every option guests enjoy an elegant and stylish lighting and a lengthy list of in-room services, such as LED TV's with cable channels, desk and air conditioning with remote.
Food & Drinks
Even when our hotel in downtown Oaxaca does not have a restaurant, we do offer a diner equipped with microwave oven and refrigerator, whe you book you will have these benefits only in Happy Express Hotel.
The Best Location in the Heart of Oaxaca
There are no Oaxaca hotels similar to Happy Express Hotel in the Historic Centre. We're located only three streets away from the main square (Zocalo), two blocks from the main markets and 2 blocks away too from the Arts and Crafts Market. Also, to move easily throughout the city we offer safe taxi service and tours to the archaeological sites and most interesting tourist attractions in Oaxaca.
List of amenities and services available in Happy Express Hotel Oaxaca:
Internet access throughout the building
Complimentary American breakfast
Tours reservation
Free safe box in the lobby
Air conditioning
LED TV with cable channels and remote
Free private parking lot nearby
Bus parking lot at the entrance of the hotel
Special parking lot for people with disabilities
Free luggage storage
Cribs
External laundry and dry cleaning service (extra cost)
Free iron and ironing board
Safe taxi service
Daily housekeeping
24-hour hot water
Wake up call service
Daily information about events in the city
Boarding passes printing
Free local calls in the lobby